Mission for vision: Program provides free eyeglasses to students who need them. At the halfway mark, Vision for Baltimore has distributed more than 3,000 pairs of glasses
By Katie Pearce
Across Baltimore today, some 3,100 school kids are walking around wearing free Warby Parker glasses.
For each of these students, the process started with a vision screening right at their school. Next came a visit from the optometrist, in a mobile clinic on campus, followed by fittings for the specs of their choice.
So far, the Vision for Baltimore program has provided these services at 81 schools. There are 66 more to go as the program continues its mission to serve every public school student in the city, up to eighth grade, over a three-year span.
"We want to get glasses on every student in Baltimore who needs them," says Megan Collins, who works in the Wilmer Eye Institute and is one of the Johns Hopkins researchers helping to guide Vision for Baltimore.
"We want to get glasses on every student in Baltimore who needs them"

-Megan Collins
On Thursday, Collins will participate in a panel discussion exploring the successes and challenges of this unique public-private model, which at its halfway mark has completed more than 28,000 vision screenings across Baltimore. Warby Parker, the program's glasses supplier, will host the Jan. 18 event at its Harbor East location.
The seeds for Vision for Baltimore were planted back in 2015 during a conversation between Johns Hopkins University President Ronald J. Daniels and Baltimore City Health Commissioner Leana Wen. Looking for a public health issue to partner on, the two landed on vision care as a pressing need for local schoolchildren.
One contributing factor in the decision was a notable Hopkins study finding marked improvements in reading skills for second- and third-graders who received glasses. Meanwhile, a body of research has established the risks of not catching vision problems early with students, including poor academic performance and misdiagnoses of behavior disorders or special education needs.
In addition to Johns Hopkins and the Health Department, the coalition grew to include the city's public school system and the national nonprofit Vision To Learn, with glasses donated by Warby Parker, a company co-founded by Hopkins alum Jeffrey Raider.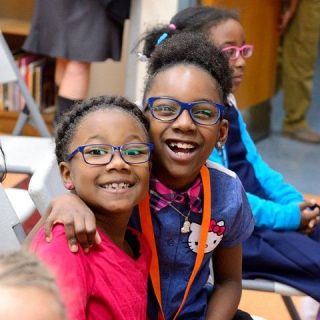 Since its formal launch in May 2016, Vision for Baltimore has tackled a number of intrinsic challenges that come with delivering school-based care on such a grand scale.
For one, there's the issue of family engagement. Consent forms from parents are required for students' follow-up eye exams, and early in its first year the program struggled with about a 20 percent rate in getting signatures, Collins said. Today, though, that rate has risen to 60 percent, with five schools reaching a 100 percent rate this year.
"The fact that the numbers have at least tripled speaks to the relationships we've developed in the community," Collins said, pointing especially to the role teachers play as the pivotal bridge between school and home.
"One big thing we're learning is the necessity of building a culture around the importance of vision and how kids do in the classroom," Collins added. "The more we involve teachers in that process, the higher our response rate has been."
In addition, a Johns Hopkins Catalyst grant will go toward hosting community focus groups at several schools to engage directly with parents and learn more about potential barriers to participation in Vision for Baltimore.
With the students themselves, the program has worked to promote a sense of excitement about the trendy Warby Parker frames—reducing any social stigmas that may come from wearing glasses—and to encourage commitment to maintenance. The team is using a grant from the JHU Urban Health Institute to host science fairs and programs at a number of schools this spring, imparting knowledge to students on the value of vision care.
In addition to supporting Vision for Baltimore programmatically, Johns Hopkins is conducting an ongoing three-year study to measure its academic impacts, including changes in standardized test scores. As Politico noted last fall, this data could "radically alter" how school systems across the U.S. approach the impacts of vision care.
Meanwhile, Vision for Baltimore organizers are focused on another larger goal: expanding the program beyond its home city.
That's started already in Chicago, where Collins and Robert Slavin of the Johns Hopkins School of Education have partnered with the city's existing school-based eye care program to help boost participation through education programs targeted at both students and teachers. As in Baltimore, researchers are also looking at the academic outcomes, through a study of 80 schools.
The Jan. 18 Vision for Baltimore panel discussion takes place 6 p.m. at Warby Parker's store at 1807 Aliceanna St. In addition to Collins, panelists include representatives of the Baltimore Health Department and Vision To Learn, along with a Baltimore principal.